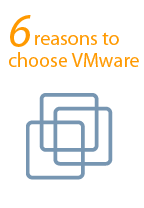 From working with analysts, customers, and partners, it is apparent that companies need a solution that meets ALL of the following requirements:

Is built on a robust, proven foundation
Delivers a platform for shared IT services
Provides a complete solution for virtualization management
Supports your entire IT infrastructure
Is proven across tens of thousands of customer deployments.

As you'll see, it quickly becomes clear that only VMware delivers on all of these important requirements. And best of all, VMware delivers while providing low total-cost-of-ownership (TCO).