This eLearning course on vCloud Air
will provide you a fundamental understanding of vCloud Air and how customers can move or extend their on-premises data center to vCloud Air.
The course provides an overview of vCloud Air, the common challenges with public cloud offerings, common barriers to public cloud adoption, and how vCloud Air helps overcome these barriers.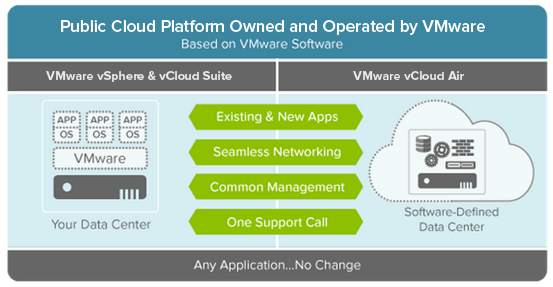 The course
then examines the vCloud Air service offerings and features, security and compliance standards, and networking concepts and services associated with vCloud Air. You will evaluate some use cases to understand how customers can get started with vCloud Air.
Finally, you will identify the various management tools that can be used to manage your vCloud Air environment with your on-premises virtual infrastructure.
At the end of this course, you should be able to:
Explain how vCloud Air helps customers employ a hybrid cloud solution.

Explain vCloud Air networking concepts.

Explain the use of vCloud Air management tools.
Via Marc Huppert