Here's a short write-up regarding my VCAP5-DCD exam experience. The training course I was scheduled for this week was cancelled, so I decided to give the VCAP5-DCD exam another try. I already failed for the beta and my first attempt for the regular one but VMware was so kind to provide me with a voucher, which would expire soon.
So besides some household tasks, I've used this week for some serious prepping. One of the most important sources for my study was the lecture guide of the VMware vSphere design Workshop. I've delivered this training course several times and it has some great content. Especially the first chapters where the different types of design stages like logical and conceptual are well explained. They definitely need some extra attention. You have to know what happens at each specific stage.
Also take a very good look at this diagram, which explains abbreviations like RTO, RPO and MTPOD. Source (http://www.goh-moh-heng.com/wp-content/uploads/defining-RTO.png)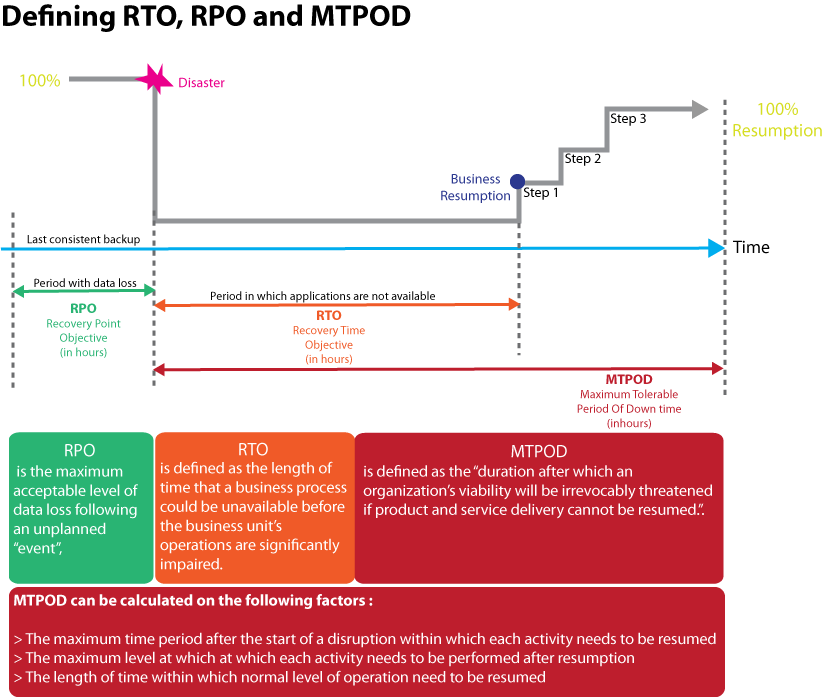 I've seen some posts about exam timing. Yes it's essential for passing the exam but don't get to hung-up on it (don't stare at the clock every single minute). When you start the exam, the first page will present the amount of design labs and the total amount of questions. It also shows the average time you should spend on the design questions. The number of design questions is reduced a bit compared to earlier versions of the DCD exam, so with only 5 or 6 questions you should be able to complete them all.
Before starting at a design question write down the number 1,2,3,4 or 5 and the time you've started designing. Don't jump into Visio-mode, I nearly blew one by connecting the connectors to the wrong objects. Read the assignment well enough to be able to complete the lab. It is a myth that the design questions don't count for your final score. They are responsible for a significant part of your end score, so take them serious.
The drag and drop questions are sometimes a bit lengthy, but don't skim the text. There are very important details hidden in it so read it fully. The other "multiple choice" and "choose all that apply" questions are not that hard. It's the knowledge that you already posses that will get you through. Just think straight but don't answer too fast and click next, because you can't go back.
I finished the exam with only 3 seconds on the clock left. My end score was 338. I must admit, I had the feeling I did a bit better and would end-up near 400 points, but a pass is a pass. Good luck with your VCAP-DCD.