Nimble Storage fully integrates with VMware SRM to automate DR protection, test and
recovery for the storage layer. Major points of integration between VMware vCenter Site
Recovery Manager and the Nimble Storage Arrays are done via a "Storage Replication
Adapater" (SRA) written by Nimble to the specifications provided by VMware. The SRA
allows for a number of storage interaction workflows to be initiated from Site Recovery
Manager, such as: Discovery; Test Failover; Cleanup; Planned Migration; Disaster Recovery;
Reprotect.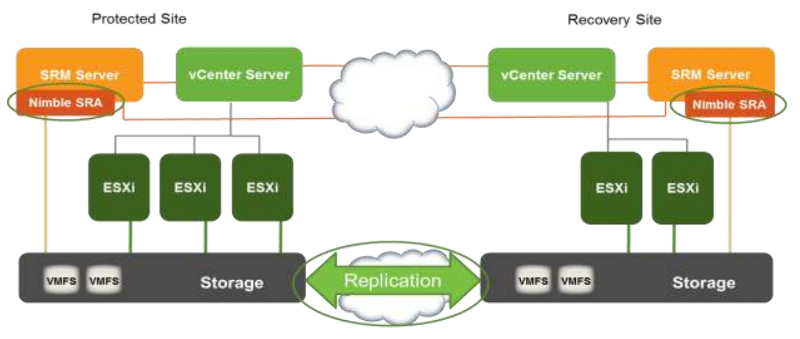 The SRA helps SRM discover Virtual Machine File System (VMFS) datastores that
are configured with cross-site replication. Arrays are pre-configured with replicated devices or
consistency groups, which are then presented to the vSphere clusters. In the SRM server the
SRA must be installed to allow visibility to these replicated devices. After the SRA is installed
and configured, replicated devices are represented within SRM, available for use in workflows.