VMware vCloud Automation Center (formerly DynamicOps Cloud Automation Center) enables you to rapidly deploy and provision business-relevant cloud services across private and public clouds, physical infrastructure, hypervisors and public cloud providers. Acting as a service governor, it provides a cross-cloud "storefront" for infrastructure-as-a-service (IaaS), platform-as-a-service (PaaS) and desktop-as-a-service (DaaS) deployments. It empowers organizations to enforce business and IT policies throughout the service life cycle, helping them to transform virtualized environments into software-defined cloud datacenters.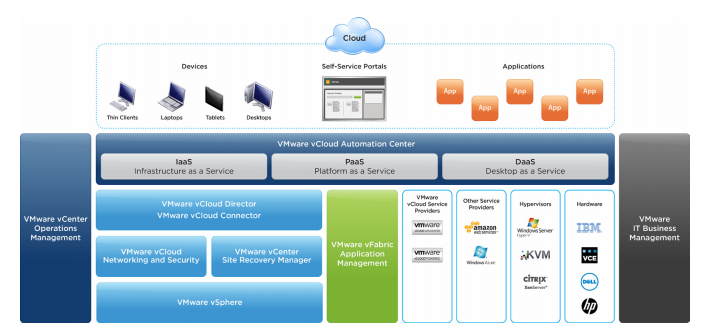 Key features of vCloud Automation Center 5.1 help accelerate the delivery of business-relevant cloud services:


Personalized self-service – Embraces the consumerization of IT by empowering users to request and manage their compute resources within established operational policies.
Unified cloud management – Seamlessly spans multivendor private and public cloud technologies.
User-centric, business-aware governance – Allows policy granularity that enables IT to deliver business-relevant cloud services to meet the diverse needs of the groups IT supports.
Intelligent resource management – Helps ensure higher utilization through placement, prevention and reclamation of resources across virtual and physical servers.
Extensible by design – Offers a full spectrum of extensibility options that empower IT personnel to enable, adapt and extend their cloud to work within their existing IT infrastructure and processes.