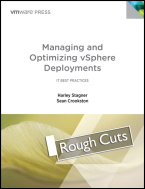 The Rough Cuts service from Safari Books Online gives you exclusive access to an evolving manuscript that you can read online or download as a PDF and print. A Rough Cuts book is not fully edited or completely formatted, but you'll get access to new versions as they are created.
To make the most of VMware's vSphere 5, IT professionals need knowledge, tips, and insights they'll never find in the manuals - or in any book, until now! In Managing and Optimizing vSphere Deployments, two world-class VMware experts offer start-to-finish lessons for vSphere planning, implementation, operation, management, and troubleshooting: expert insights drawn from their own unsurpassed "in-the-trenches" consulting experience.
Harley Stagner (VCDX,vExpert) and Sean Crookston (VCAP-DCA, VCAP-DCD, vExpert) focus on the most crucial techniques VMware professionals need, providing guidance optimized for the new vSphere 5, and frameworks that will support the evolution of virtual infrastructure for years to come. They present scenarios and case studies drawn from real-world data, addressing areas ranging from sizing and performance to redundancy, coverage includes:
Smoothly integrating vSphere 5 into current environments and considerations
Overcoming roadblocks to 100% virtualization
Establishing a more stable infrastructure
Choosing hardware and making optimal configuration decisions
Automating tasks with PowerCLI, Host Profiles, and Auto Deploy
Maximizing availability with Distributed Resource Scheduler, Networking Redundancy, and Fault Tolerance
Efficiently managing updates, patches, and upgrades * Monitoring vSphere 5 with tools provided by VMware and its community
Planning for growth, and much more.


http://my.safaribooksonline.com/9780132947183?portal=pearsonitcertification