Christoph over at 21st century storage has written a good article about 10 GigE. Here are some quick performance results from VMware servers with 10 Gigabit Ethernet cards (from Sun with an Intel 82598 controller. The servers were Sun X4150 with Dual-Quadcore processors. I fired up two test VMs with Suse Linux Enterprise Desktop 10 (64 bit) and used netperf to measure TCP bandwidth between them (the exact command used was netperf -H <target ip> -t TCP_STREAM -C -c -l 60 -f M).
Generally this is exactly what we expected: to be able to provide good performance to many virtual servers which do network and/or disk-I/O only periodically without overprovisioning the whole infrastructure.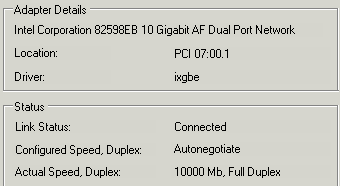 At the moment there is exactly one dual-port 10 GigE card in every VMware server and there are two physical connections to two different switches - a much cleaner setup than the 12 (!) GigE interfaces per server we had before. Via Arne Fokkema over at ICT-Freak.