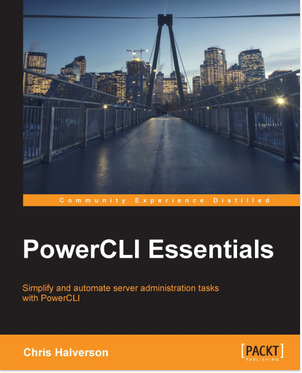 Have you ever wished you could automatically get a report with all the relevant information about your VMware environments in exactly the format you want? Or that you could automate a crucial task that needs to be performed on a regular basis?

Powerful Command Line Interface (PowerCLI) scripts do all these things and much more for VMware environments. PowerCLI is a command-line interface tool used to automate VMware vSphere environments.

It is used to handle complicated administration tasks through use of various cmdlets and scripts, which are designed to handle certain aspects of VSphere servers and to help you manage them.
This book will show you the intricacies of PowerCLI through real-life examples so that you can discover the art of PowerCLI scripting. At the start, you will be taught to download and install PowerCLI and will learn about the different versions of it.

Moving further, you will be introduced to the GUI of PowerCLI and will find out how to develop single line scripts to duplicate running tasks, produce simple reports, and simplify administration. Next, you will learn about the methods available to get information remotely.

Towards the end, you will be taught to set up orchestrator and build workflows in PowerShell with update manager and SRM scripts.
Download and install PowerCLI and its basics as well as the basics of PowerShell
Enchance your scritping experience
Build longer scripts and simpler reports
Relate a task in VMware administration to a PowerCLI script
Discover methods to acquire and change information remotely
Set up orchestrator to manage your workflow