This book is for those who want to learn to install, manage, and configure the VMware NSX Network Virtualization platform. If you want to explore, understand, or deploy VMware NSX in your environment, this book is for you.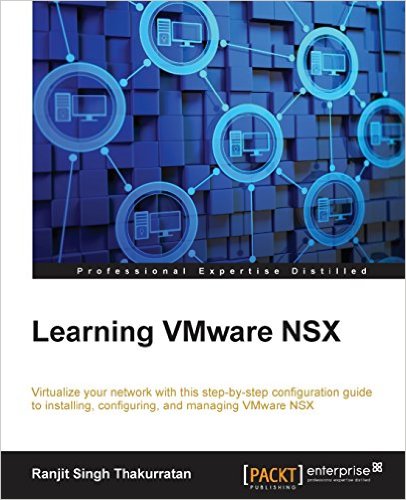 Also, this book can assist you to prepare for VMware NSX certification. Knowledge of basic networking concepts and VMware components such as vCenter and vSphere is required.
What You Will Learn:
Explore the foundational components of VMware NSX
Install and configure NSX manager and its components using best practices
Deploy and configure VXLAN-enabled logical switches
Secure your environment using Distributed Firewall and Data Security
Configure third-party services in NSX
Manage, configure, and deploy edge gateway services
Understand software-defined networks
VMware NSX is the network virtualization and security platform that emerged from VMware. It is a platform for the software-defined data center. This software networking platform allows complex networking topologies to be deployed programmatically in seconds.

SDNs allow ease of deployment, management, and automation in deploying and maintaining new networks while reducing and in some cases completely eliminating the need to deploy traditional networks.
In Learning VMware NSX, you will see some of these features of SDN and explore VMware NSX, starting with network virtualization. We'll then walk you through the components of NSX and provide step-by-step instructions to help you install and configure NSX.

We also cover all the functional services of NSX, edge services gateway, service composer, and data security. In addition, we'll teach you to integrate partner solutions with NSX. Finally, we show you how to manage your NSX deployment and monitor NSX.