Thursday, February 19. 2009
Maishsk over at
technodrone.blogspot.com
posted the official VMware Video stencils at VI:OPS. Here's the link
http://viops.vmware.com/home/docs/DOC-1346
Via Arne Fokkema at
http://ict-freak.nl
.
This afternoon I had a special guest trainer on stage. Viktor van den Berg did a dry run of his "the Unattended Deployment of VMware Infrastructure 3" VMworld session. Afterwards I did a short Mino interview with him.

Viktor van den Berg did a dry run from Eric Sloof NTPRO.NL on Vimeo.
Viktor van den Berg, Product Manager and Technical Trainer at the Xpert Training Group is going to present a session about the Unattended Deployment of VMware Infrastructure 3 at the VMworld Europe 2009 Cannes.
An unattended deployment of VMware infrastructure 3 reduces the time needed for installation and configuration of your VMware ESX and vCenter server(s). It also reduces the risk misconfiguration. Unattended deployment of these products will gain you a consistent configuration. At Xpert Training Group, an indepedent VMware Authorized Training Centre from The Netherlands, unattended deployments of VI-3 are used on a regular basis. In this session you will learn how to automatically deploy your ESX servers and how to connect these fresh installed ESX servers to a vCenter server. After the introduction of a step-by-step plan for unattended deployment, this session will focus on some useful scripting techniques used in a unattended deployment scenario. Expect some bash and powershell scripting in this session.
Wednesday, February 18. 2009
I'm delivering a VMware View training this week. When I reached the "Replicate Server" chapter we had to do a lab with the "Hercules virtual appliance". The goal of the lab is building a multiple "Connection Server" environment and let the appliance do the load-balancing.  Although the "Hercules virtual appliance" is well documented and even has a VA page at the VMware website, I had a hard time to get it working. The virtual appliances available on http://istanbul.sourceforge.net/ either have a IDE disk or an old SCSI disk which isn't compatible with ESX 3.5. I converted the "Hercules virtual appliance" to the Open Virtualization Format (OVF), and it's available for download at the following address :

http://www.ntpro.nl/software/Hercules-SCSI-ESX3.zip

Here's the way to set it up:

• Import the OVF virtual aplience.
• Power-on the Hercules VM.
• Open a console. Login as a user-ID of "root" with a password of "root".
• Enter the following command at the command line:
• pen 443 10.168.100.3:443 10.168.100.4:443

The format of the command is: pen <port-number> <first-server:port> <second-server:port>. There is a space between the first port number and the first server IP. There is a second space between the first server's 443 port and the second server's IP.

It runs on a Linux OS built from scratch to have a minimal footprint. It can run with just 32MB memory for normal usage and you can increase memory requirements for the appliance as you need. It also has a built in web server, SSH server, DHCP client. You can administer the machine remotely via SSH. It is setup for DHCP so the networking is setup automatically. A webserver is installed to both serve up this page and to help you test different configurations. The load balancing functionality is provided by the excellent open source project pen.
The amount of disk space used by it is 4.0 MB. The virtual disk will expand as needed and has a maximum size of 100 MB. This is the minimum size of a virtual disk that can be created in VMware Workstation.  The  compressed/zipped image of this appliance is 2.5 MB !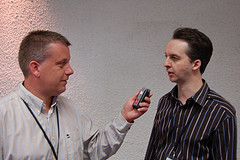 Mike has rented out his advertisement space and is living in wealth now. He doesn't have to earn his money with writing book anymore, so he's giving them away. :-) You can download the first chapter of Mike's SRM book at RTFM-Education.

"This book will teach how install and configure VMware's Site Recovery Manager product. It also covers in detail the failover and failback processes - and I will guide you through step-by-step through the setup of the product. This book is not filled with project management padding that typifies a lot of IT books. It's practical and technical, and assumes you are already pretty familiar with VMware's Virtual Infrastructure products including ESX 3.5 and VirtualCenter 2.5. In this book you will learn the strengths and weakness of the Site Recovery Manager product, and show you the common pitfalls and errors that can happen, and also more importantly why they happen, and how to fix them."
Update : Mike did it again, another Four Free Chapters from the Vi3Book are online.