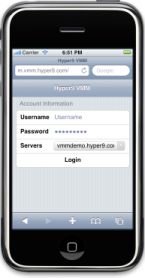 VMM offers administrators remote monitoring and support - browser-based management that works on a wide variety of mobile devices.  Developed by virtualization infrastructure expert Andrew Kutz, VMM offers:
- Monitor and manage on the go
- Monitor multiple host and VM performance stats (CPU, Memory)
- Understand datacenter health Mobile
- Monitor Host and VM Performance Statistics (CPU, Memory)
- Control VMs and Take Action on the Go (start, stop, pause, reset, disable network)
- Optimized for Mobile Devices (Apple iPhone, Blackberry, Google Android and Windows Mobile Devices)
The VMM beta is available to the entire VI admin universe today. If you're willing to provide Hyper9 with a little feedback, send me an e-mail. The first 15 responders will get 50% off pricing on the already low pricing, automatic entry into Win a Mobile Device contest and a limited edition Hyper9 T-shirt.