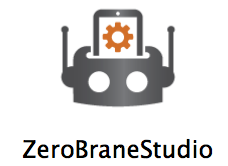 ZeroBrane Studio is a lightweight Lua IDE with code completion, syntax highlighting, remote debugger, code analyzer, live coding, and debugging support for several Lua engines.
It is simple and instantly usable for beginners, yet feature-rich and extensible for experienced developers. Unlike Eclipse and IntelliJ, it has a small footprint and is completely customizable with Lua. Unlike TextMate and Sublime Text, it includes a remote debugger and a full IDE feature set.

ZeroBrane Studio also provides several unique features: live coding for immediate feedback, Markdown formatting in comments for providing instructions with minimal context switching, and integrated interactive materials for those learning Lua or getting familiar with programming.