Thursday, June 2. 2011
VMware has successfully implemented dozens of cloud infrastructures. To help pass along the experience they have accumulated through these deployments, they have assembled a set of documents you may use to better understand both the principles upon which VMware's cloud strategy is executed, and the actual mechanics of implementing your own cloud infrastructure. Review and use these assets in your own exploration of cloud technologies, and compare them with any real-world advice you may receive from other sources. VMware is confident that the more you know about our architecture and its advantages, the more likely you will be to adopt and leverage that architecture.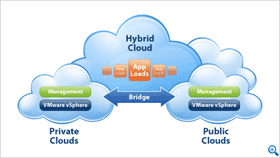 VMware recommends you review these documents in order, starting with what to consider when first developing a Cloud strategy, in Requirements for a Cloud. The next two Service Definition documents are presented as aids to developing business and functional requirements for either Public or Private cloud architectures—complete with sample use cases. Linking together the first three documents is the pivotal Architecting a Cloud, which assumes familiarity with at least two of the prior three documents. Finally, the Example documents illustrate from our direct customer experiences what functioning cloud architectures may look like.

• Requirements for a cloud
• Service Definition for a Public Cloud
• Service Definition for a Private Cloud
• Architecting a Cloud
• Implementation Example for a Public Cloud
• Implementation Example for a Private Cloud

http://www.vmware.com/cloud-computing/cloud-architecture/
This technical note describes how to enable experimental support for OpenLDAP, PostgreSQL and MySQL if you want to use them with VMware vCenter Orchestrator. Orchestrator requires a working LDAP server in your infrastructure and a database that is separate from the standard VMware vCenter Server database. You can configure Orchestrator to work with the experimentally supported LDAP server and databases only for testing and evaluation purposes.

http://www.vmware.com/files/pdf/techpaper/vco-experimental-dbs-openldap-support.pdf